Sorry, but no updates will be done on this site from now on. I decided to put all my efforts on the Swedish site. You'll find a translation tool on the right hand side, Translate this site / Traducir esta Página (powered by Google) or you can use the links below. You may have a good laugh since the translations sometimes mess it up, but I'm sure you will find a lot more to read this way:
Sorry for any inconvience!
/Monica 2008-12-12
Garlic Shrimp - (Gambas al Ajillo)
Gambas al Ajillo are served sizzling hot in their individual cooking dish.
Serve with a piece of baguette for dunking the aromatic garlic oil.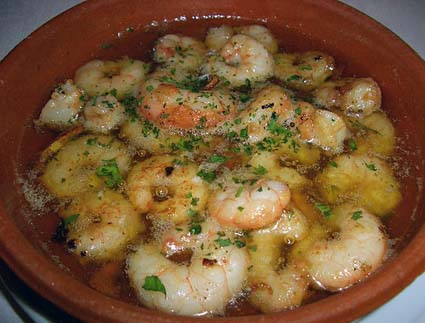 The garlic shrimp, which are served in their individual cooking dish, should
sizzle in the olive oil while eaten.

Ingredients, serves 4 as a tapa:
1/2 pound raw shrimp, peeled
3 garlic cloves
1/2 cup olive oil
1 small dried red chili pepper (about half the size as below) or 1/4 teaspoon cayenne pepper
salt
chopped parsley
Preparation:
Peel and slice the garlic cloves.
Slice the chili pepper and remove the seeds.
Heat the olive oil in an ovenware dish on the stove or in the oven over high heat.
When the olive oil is sizzling, add garlic and chili pepper.
When the garlic has taken little color add the shrimp. Stir and sauté for about 3 minutes, until the shrimp are done.
Add salt to taste.
Remove shrimp from the heat, sprinkle chopped parsley on the top and cover with a lid or a plate.
Serve directly from the cooking dish while still sizzling.
Serve with baguette, for dunking the aromatic oil.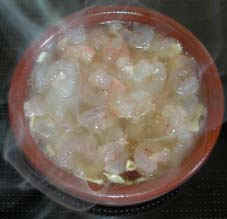 The shrimp sizzling on the stove...
Do you like to cook? Here are more recipes on Spanish tapas
Last revised: 5 July, 2006