Sorry, but no updates will be done on this site from now on. I decided to put all my efforts on the Swedish site. You'll find a translation tool on the right hand side, Translate this site / Traducir esta Página (powered by Google) or you can use the links below. You may have a good laugh since the translations sometimes mess it up, but I'm sure you will find a lot more to read this way:
Sorry for any inconvience!
/Monica 2008-12-12
Mushrooms in garlic - (Champiñones al Ajillo)

Champiñones al Ajillo is a traditional tapa.
It is very easy to prepare. Enjoy...
Photo: Fry the mushrooms in olive oil and butter.
In the skillet behind - Spanish Chorizo, also a common tapa.
I suppose that no detailed explanation of how to cook it is necessary. Try it!
Ingredients, serves 4 as a tapa:
1 pound fresh mushrooms
4-5 garlic cloves
olive oil
2-3 tablespoons butter
salt and pepper
2 tablespoons chopped parsley
Preparation:
Clean and rinse the mushrooms and cut them into rather thick slices.
Heat olive oil and butter in a skillet.
Slice the garlic cloves or squeeze them. Bear in mind that the garlic taste gets stronger if you squeeze them. Add them to the skillet with the oil and butter.
When the garlic begins to brown, add all the mushrooms at the same time.
Fry until the liquid from the mushrooms disappear and they are golden brown.
Add salt and pepper to taste.
Put the mushrooms on a serving dish and sprinkle chopped parsley on the top.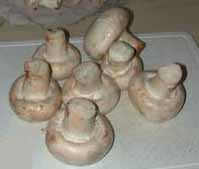 Do you like to cook? Here are more recipes on Spanish tapas
Last revised: July 7, 2005