Sorry, but no updates will be done on this site from now on. I decided to put all my efforts on the Swedish site. You'll find a translation tool on the right hand side, Translate this site / Traducir esta Página (powered by Google) or you can use the links below. You may have a good laugh since the translations sometimes mess it up, but I'm sure you will find a lot more to read this way:
Sorry for any inconvience!
/Monica 2008-12-12
Paella
An important ingredient in one of the national dishes, Paella, is saffron. The place of origin for the "real" Spanish paella is in Valencia. According to a friend from the region it should contain rabbit meat and snails. In addition it has to be prepared in water from Valencia. Well, sometimes its difficult to get hold of rabbit meat. And its even more difficult to find water from Valencia.
There are many different rice dishes which has developed from the original recipe. Below is a Seafood Paella. This recipe is from another friend of mine, Eva-Helena Holmberg-Lascaray. If you don't find all the ingredients, try to experiment a little. If you want to make it a bit more luxurious, why not add lobster for example.
After Eva-Helenas recipe there are other suggestions. Do you have your own favorite? Please mail me!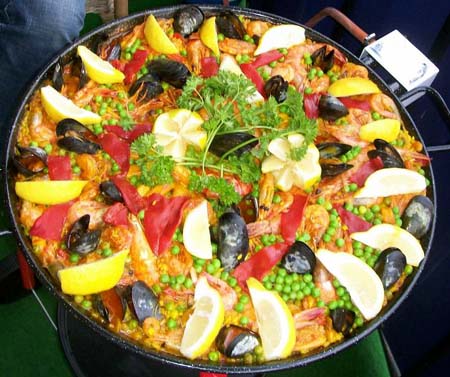 Photo: Norberto Martí Martínez
Seafood Paella, serves 8-10
Ingredients:
3 cups rice, converted, parboiled
1 cup olive oil
6 cups of fish broth, preferably homemade.
5 tomatoes, chopped
4 garlic cloves, minced
1 big onion, chopped
2 green peppers, chopped
1 red pepper, chopped
1 small jar of red peppers, cut lengthwise for garnish.
1,5 pounds langoustines, peeled but head and tail on.
2 pounds mussels
1/2 pound clams
1 pound fish for fish-broth - totally 6 cups of broth
1,5 pounds squid, cleaned and cut in stripes
Lemon wedges for garnish (3 lemons)
1/2 teaspoon saffron and yellow food-coloring (Mix with heated broth)
3,5 ounces defrosted small peas (not necessary)
Salt och pepper
Preparation:
Make the fish-broth (mix water, fish bones, chopped onion, carrots, parsley, 1 bay leaf and salt and pepper) Cook for 15 minutes.
Clean the squid and cut in stripes. Season. Cover and save.
Put the mussels and the clams in a pan and cook until open. Discard the shells that has not opened. Cover.
In a paella pan, (see picture below) Heat the olive oil. Add the chopped onion, green and red pepper. When half soft add garlic and tomatoes. Sauté until tender. Season.
Add the rice and cook for a moment. Add the hot fish-broth (6 cups), saffron and food coloring.
After 10 minutes incorporate the squid. 5 minutes before the rice is done add the langoustines, the mussels, clams and the red pepper from the jar.
When rice is done, decorate with the lemon wedges and the peas.
Cover with a kitchen towel for 5 minutes before serving.
Mixed Paella - combine the recipe above with:
1 -2 pounds of chicken, cut in smaller pieces.
3,5 - 7 ounces chorizo, in slices.
7 ounces pork, diced.
Replace the fish-broth with chicken-broth.
Follow the recipe above, but start with frying the meat until it takes nice color. Season with salt and pepper. Put it on a separate plate. Continue with the onion, peppers, garlic and tomatoes. When tender add the meat again together with the vegetables. Then add rice and the chicken- broth.
Saffron Rice
A nice rice to be accompanied with lots of different dishes; chicken, grilled fish and to most meat:
Chop one onion. Melt butter or olive oil in a saucepan. Add the finely chopped onion and sauté until onion is soft. Add some saffron, salt and the rice. Use chicken-broth instead of regular water. Make it boil. Cover, lower the heat and boil during approx. 20 minutes.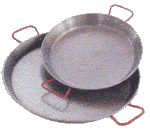 Do you like to cook? Here are more recipes on Spanish tapas
Last revised: July 6, 2006